As businesses cautiously reopen in a staggered relaxing of lockdown, here are a few suggestions for how you can support your local businesses on and offline:
Make a purchase

Let's start with the obvious one! But if you're still cautious about going 'out and about' you may still be able to make a purchase online. Many small businesses adapted to selling online, using lockdown as an opportunity to finally get around to creating a website or upgrading it with an e-commerce functionality, and thus providing their customers with a choice not previously available. And have you checked whether your favourite café, pub or restaurant has reopened yet? Now is the time to get out there and show your support as they begin to reopen.

Refer your friends

All businesses benefit from positive word of mouth and referrals. Make an effort to remember to recommend businesses you rate to your friends, family and colleagues.  Small business owners we know have reported a tremendous upsurge of online support from local people who previously may never have liked or shared their social media posts – and it all helps raise the visibility of small businesses.

Purchase gift cards

Even if you're not planning on going into the shops, buying a gift card is a great way to immediately benefit the business and is a nice gesture of loyalty. You can save it for later or gift it to someone else.

Use the power of social media

As mentioned above, social media is a great way to help raise the profile and spread positive word of mouth about local businesses. Whatever social media platform they're on – FaceBook, Twitter, Instagram or other – they will benefit from you leaving a nice comment, liking and sharing their posts and pictures or perhaps sharing a picture of something you've bought there.

Leave them a glowing review

Increasingly people look to review sites before buying anything or visiting anywhere, so leaving a positive review will undoubtedly give your local businesses a boost. There are a number of different places you can leave reviews such as Google, TrustPilot and TripAdvisor.

Invest local

Some local businesses are looking to invest in their operational changes or diversifications as a result of the pandemic but are unable to access finance from their bank. If you have funds to invest you can support them by investing via FOLK2FOLK while earning typically 6.5% p.a. in interest paid monthly. Find out more here.
Capital is at risk. Peer to peer lending is not covered by the financial services compensation scheme (FSCS). Minimum investment amount is £20,000. Investment is secured against land or property.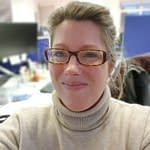 By Veryan Skinner, Head of Brand, Marketing & Communications.
This blog was published in our #FOLKUS newsletter. Subscribe to get future issues delivered into your inbox: www.folk2folk.com/folkus