Being alert, careful and aware of scams is important for any time of year, but especially now as Christmas and a new year approaches when many of us are more active with our spending (both online and off) and potentially on the lookout for good looking investments for the coming year. 
Fraudulent activity and investment scams have become more prevalent during the course of this year and we want to encourage extra vigilance as scammers are becoming increasingly more sophisticated.
INVESTMENT FRAUD
When it comes to investment fraud, the Financial Conduct Authority (FCA) has published helpful information and guidance on their website where you can find out about potential coronavirus scams and learn how to avoid being caught out by fraud.
The FCA highlight the following tactics to look out for (source: the below extract has been taken from the FCA's website):
Exploiting short-term financial concerns, scammers may ask you to hand over an upfront fee – usually between £25 and £450 – when applying for a loan or credit that you never get. This is known as loan fee fraud or advance fee fraud.
'Good cause' scams. This is where investment is sought for good causes such as the production of sanitiser, manufacture of personal protection equipment (PPE) or new drugs to treat coronavirus – with scammers using the promise of high returns to entice consumers.
Using the uncertainty around stockmarkets, scammers may advise you to invest or transfer existing investments into high return (and high risk) investments.
Clone firms– firms must be authorised by the FCA to sell, promote, or advise on the sale of insurance products. Some scammers will claim to represent authorised firms to appear genuine. In particular, be aware of life insurance firms that may be cloned.
Scammers may contact you claiming to be from a Claims Management Company (CMC), insurance company or your credit card provider. They may say they can help you recuperate losses by submitting a claim, for the cost of a holiday or event such as a wedding cancelled due to coronavirus. They will ask you to send them some money or your bank details.
Cold calls, emails, texts or WhatsApp messages stating that your bank is in trouble due to the coronavirus crisis, and pushing you to transfer your money to a new bank with alternative banking details.
In addition, we would encourage anyone considering a new type of investment to check the FCA online tool 'ScamSmart' which can help you identify if the investment is a scam or not.
ONLINE FRAUD
According to the National Cyber Security Centre, during the last festive period, victims of online shopping fraud in England and Wales lost an average of £775 each.  The National Cyber Security Centre advise the following 6 steps to protect yourself (source: the below extract is taken from the National Cyber Security Centre website):
Use a strong and separate password for your email
Create strong passwords using 3 random words
Save your passwords in your browser
Turn on two-factor authentication (2FA)
Update your devices and apps
Back up your data
You can find useful information on their website including guidance on dealing with suspicious emails, phone calls and text messages.
Please stay well and stay financially safe this Christmas.
***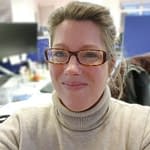 By Veryan Skinner, Head of Brand, Marketing & Communications.
This blog was published in our #FOLKUS newsletter. Subscribe to get future issues delivered into your inbox: www.folk2folk.com/folkus