Peer to peer (P2P) lending offers some excellent investment opportunities but before diving in, investors and their advisers need to do thorough research to ensure they pick a quality platform.
For many, the P2P lending sector offers a welcome alternative investment class especially with the Innovative Finance ISAs (IFISA) introduced in April 2016.
Over the past ten years, the rapid growth of the P2P industry has not been without controversy but to lump all P2Ps together would be inaccurate and displays a lack of understanding of the broad nature of the P2P sector.
It is certainly correct that P2P investments are not protected by the Financial Services Compensation Scheme and there is no safety net other than your own risk assessment. Investors and their advisers should, therefore, find out everything they can about the people who manage the platforms and the loan investments listed with them.
Prior to investing via a P2P platform, there are some key due diligence points you may wish to investigate to ensure you have separated the wheat from the chaff so you or your client can invest via a quality P2P provider.
Dipping A Toe In The Water
Most people learning to dive would start on the three-metre springboard to gain experience before moving up to the ten-metre board. You can take the same approach when considering investing via alternative finance platforms because it's relatively easy to categorise investment offerings into risk groups.
You might start with the three-metre springboard, where you would find loans that offer lower interest rates but are secured against property. Moving up to the five-metre board you might find loans with a lower quality of security, but a higher return. The seven-metre board is for the more experienced investor and would include unsecured debt.
If you are very experienced – and know the depth of the water below – there is the ten-metre board where you can invest into the equity offering of a start-up business, which could result in you earning a multiple of your money, as in E Car Club. Or it could end in disaster and total loss, as in Rebus, the claims management company that went into administration after raising more than £800,000 through crowdfunding.
Ultimately, it's about doing thorough research and ensuring you invest via a quality provider.  For those prepared to invest the time, there are some excellent investment opportunities, where investors can not only earn an attractive return with good security but can also help businesses gain access to capital they would otherwise not have.
For more information, read our handy guide to what you should ask before investing via a P2P or marketplace lender
Capital at risk. No FSCS.
***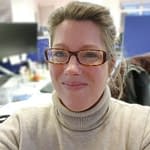 By Veryan Skinner, Head of Brand, Marketing & Communications.
This blog was published in our #FOLKUS newsletter. Subscribe to get future issues delivered into your inbox: www.folk2folk.com/folkus