Habitat and wildlife decline are often blamed on farmers, but Ian Bell fights their corner.
It is a familiar routine on a Sunday evening: I shout at the screen during Countryfile, no one can speak as my spouse watches the Antiques Roadshow and then collectively we analyse Captain Poldark's riding skills!  Nevertheless, I am very proud of Countryfile.  Having served on the BBC Rural Affairs Advisory Committee during the period it went from a half-hour Sunday afternoon program to an hour and then the move to prime time on Sunday evening; it was a huge achievement.
I particularly like 'Adam's Farm' when Adam Henson gives us a snapshot of activity on his farm.  I will always applaud Adam for bringing the financial and emotional consequences of a breakdown in Bovine Tb to the attention of the public.  Every week, the program highlights some terrific conservation work be it habitat recreation or working to protect various species of birds and animals; and so, to my rant: there is often an undertone that these problems arise because of farmers!
Farmers are good conservationists.  Their farm is their pride and joy and they see themselves as custodians of the countryside.  Our beautiful rural landscapes have developed over centuries through the effects of practical farming, sport and the inclinations of wealthy land-owning families.  My first employment was on a large estate; as you stood on the balcony of the Hall which over looked the park, the positioning of the trees represented Wellington's troop placings at Waterloo.  Contrary to popular belief, farmers do not rush out with the sprayer to obliterate wildlife at any opportunity; it costs money.  Spraying is an insurance policy to ensure as good a crop as possible not a speculative operation.  Ladybirds will always be a more cost-effective way of controlling an aphid infestation than any mechanical and chemical method.
Above all, for farmers to continue caring for the countryside they must make a profit.  Conservation costs, in labour and materials, it cannot be funded from an unsustainable business.  Farmers and land-owners contentedly plant an oak tree in the knowledge that they will never see it develop beyond a strong sapling, but in the hope that future generations will enjoy the aesthetics of a mighty oak and that, at some point, it will produce a financial return.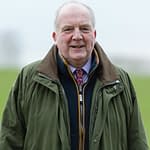 by Ian Bell OBE, Head of Farm & Rural Engagement