FOLK2FOLK has called for an extension to the coronavirus business interruption loan scheme (CBILS) beyond its current end date of 30 September 2020.
In an interview with Peer to Peer Finance News recently, FOLK2FOLK Managing Director, Roy Warren said: "We were pleased with the recent decision by the government to extend the deadline for drawdown of CBILS loans until the end of November.
"Any extension of the scheme would be a big positive for businesses who are continuing to see the impact of COVID-19.  Not least, those businesses who were able to weather the short term impacts of the pandemic, but need funding over the months ahead and are only now deciding they need a CBILS loan to sustain their business during this time."
FOLK2FOLK was approved for accreditation by the British Business Bank to deliver the CBILS scheme for small- and medium-sized enterprises (SMEs) in July. Since then, we have been 'operationalising' CBILS and putting the required institutional funding in place. The British Business Bank has completed its due diligence of our platform and is now conducting an audit of our processes. We hope to be able to start accepting applications from existing customers within the next few weeks, before opening up to new borrowers.
"If the scheme is not extended, the benefit to SMEs will be much less if we can't deliver all of the funds."
Read the article in Peer 2 Peer Finance News written by MICHAEL LLOYD
***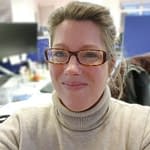 By Veryan Skinner, Head of Brand, Marketing & Communications.
This blog was published in our #FOLKUS newsletter. Subscribe to get future issues delivered into your inbox: www.folk2folk.com/folkus