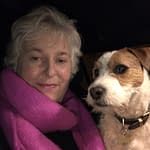 By Claire Thayers, FOLK2FOLK Chapter Development Manager
It's that hectic time of the year, when we have a diary full to the brim with various agricultural shows – from the Royal Highland Show to the Royal Cornwall Show and everything in between.
I'm old enough to remember the Royal Show at Stoneleigh –  always considered THE agricultural show in the UK and it was! As an ex-Young Farmer, it was always an honour to represent your county at such a high level, and I still lament its loss today.
I think some of our county shows these days have lost their way. Instead of trying to be all things to all people, these shows would be stronger and better quality if they held on to their strong agricultural roots. The shows that embrace this ethos will be the ones that survive and are celebrated for their success.
To have a county show that brings everyone in our rural communities together is essential when it appears more of our traditional meeting places are closing for good; such as our cattle markets, our post offices and banks, libraries, community centers and local stores. More than ever before, there's a need to have events like county shows that enable people to meet, connect, socialise and do business face-to-face. From selling farm machinery, food and drink products, or clothing and other wares, meeting in person to discuss, collaborate and grow our rural businesses is essential to the sustainability and prosperity of our local and rural communities.
The best and most successful rural businesses will use a clever mix of technology and good-old face-to-face meetings. This is something that we at FOLK2FOLK are passionate about. We believe in those traditional values of fairness and decency but using technology to enhance and make life and businesses simpler, faster and happier. That is why we'll be at the upcoming county shows, supporting them, talking to people, finding out what's happening at the very heart of the rural economies we're here to help.
It all starts with a good old-fashioned conversation!
See you there!