As we, and thousands of visitors, enjoy our beautiful countryside this autumn Claire Thayers asks us to think of the farmers who work and maintain it while considering what we can all do to help.
With winter coming there is nothing nicer than a walk in the country, enjoying the beautiful views and changing colours whatever the weather and then the delight of a hearty, warming stew in the local pub next to a roaring log firetingly fingers warming on a mulled glass of local cider….just the perfect weekend in my opinion! We love it and so do tourists… no wonder so many visitors flock to see us all year round! We're  so lucky to live in this beautiful country, but do we just take it all for granted?
The real question is: if  we value the visitor economy shouldn't we stop and think about the important caretaking role and contribution our farmers make to the alluring 'countryside experience'? They manage our countryside, they rear and grow our diverse and delicious local produce, essential for us and a lure to those who visit; spending money in our market towns and villages,  the local B&B and  village pub – all small businesses at the heart of our communities who employ local people.
Sitting by that pub fire, it's easy to forget that every day, 365 days a year, the cattle, sheep, pigs and chickens all need to be fed whatever the weather, the work that our arable farmers put into harvesting every year: the vegetables and fruit that have to be dug and picked. The work that goes into laying our hedges, managing our woodland, taking care of our wildlife, and ultimately taking care of our countryside for future generations.
It's what makes our country so beautiful and makes us all proud!
With an uncertain future, should we just sit back and expect our farmers to continue to do what they have always done? Or can we help them to diversify to create truly sustainable businesses? To create employment for our youngsters, to keep our children in the local schools, keep the local pub open and the high streets vibrant.
We can all help! Whether that's 'buying local' and contributing to your local economy or 'investing local' through  FOLK2FOLK to provide farm and rural businesses with the finance they require to grow, develop or diversify while you earn a great 6.5% p.a interest rate!
So, this weekend as you sit by that fire in your local pub, check out our website on your smartphone and find out more about The Local Lending Movement. You CAN make a difference!
Capital at risk. No FSCS.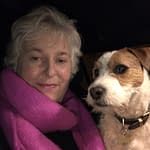 by Claire Thayers, FOLK2FOLK Corporate & Community Engagement Manager