Just when it was beginning to look like it was safe to go back into the water, the increase in the R number has taken us three steps back. This latest Covid set back is as unsettling as the first; coming after what we now realise was a false dawn.
As a result, uncertainty looms ever larger.
Though the US stock markets are defying gravity, the FTSE is making lurching gear changes giving any investors, without cast-iron constitutions, the collywobbles on a daily basis.
Add to that Brexit, almost eclipsed by Covid, and the many still unknowns. The property market is also in uncertain territory, with reports of booming sales and houses in coastal areas selling to buyers who haven't even viewed them.  But a closer look reveals many houses coming back onto the market within 6 weeks or so; perhaps the purchasers have found their mortgage application turned down or maybe they've sadly lost jobs.
With the latest announcement by the Prime Minister, and the increased fines for not abiding by the new rules, there is also increased uncertainty regarding how people will behave. We previously wrote about how well the nation had stepped up during lockdown and how the majority had done the right thing for others by following the rules. But this time around, that toeing-of-the-line doesn't feel like a certainty.
Unless they have already been told by their employer, employees that remain on furlough will still be uncertain about their future when the government support ends.  In many instances, the employers themselves will be uncertain about the future of their business with the ending of financial support packages such as the Coronavirus Business Interruption Loan Scheme (CBILS) and the lack of certainty over what they may evolve into as well as the wider knock-on impacts of the new restrictions.
An excess of uncertainty leads to doubt. Doubt leads to inaction.
Business owners may be deliberating over whether to take out a loan to tide their business over or diversify to sustain its future. Investors may be pondering whether to make further investments, liquidate their investments or stay exactly where they are.
You could choose to do nothing in the face of this uncertainty; but in many instances in life, nothing tends to breed nothing.  Or you could choose to act. By becoming a FOLK2FOLK investor many of the doubts and uncertainties that usually cloud investment decisions are banished:
Where will my money be invested?


You're in control and choose what you want to invest in from our available investment opportunities. We know that investment decisions are not always based on return, with many investors keen to know whether a company is sustainably run and details about its activities to ensure it's something they feel comfortable funding.

What about the people behind the businesses?


Going beyond credit checks, FOLK2FOLK takes an holistic approach to assessing borrowers, businesses and projects and looks at the bigger picture.

What will be my return?

FOLK2FOLK investments offer a fixed interest rate of typically 6.5% p.a. with no fees for investors to enter into a loan. Investors receive their interest in monthly payments providing a monthly supplementary income.

What is the level of risk?


Risk exists in varying degrees for all investments and while marketplace lending is no exception you can be certain that FOLK2FOLK applies prudence to all it does. We're choosy but fair and take a cautious approach to managing risk. All our loans are secured against land or property and do not exceed a maximum loan to value (LTV) of 60%.

Can I get my money out?

Our secondary market, MarketPlace, is active and provides a degree of liquidity for investors who wish to exit their investment before it reaches full term, though any 'sale' is dependent upon another investor buying the investment from you.
Forward movement is the antidote to uncertainty.
If you want to make more of your money, act now and pick up the phone for a chat on 01566 773296 or read more here.
Capital at risk. No FSCS.
***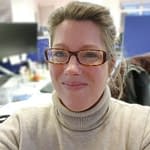 By Veryan Skinner, Head of Brand, Marketing & Communications.
This blog was published in our #FOLKUS newsletter. Subscribe to get future issues delivered into your inbox: www.folk2folk.com/folkus